I managed to crack my plastic mug and was about to buy another one when I decided to investigate the alternatives. I don't like metal mugs of any sort. I end up burning my finger and lips whenever I use them. Mugs take up space in my rucksack. I can try to stuff things inside them to try and reduce the dead space, but this isn't always possible.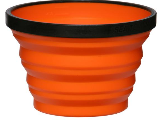 I had read several reviews of Sea to Summits X-Mug . It's constructed from silicone with a rigid rim. Its unique selling point is that it collapses into a flat disc. It holds around 500ml and the rim around the top prevents scalded fingers. I had a couple of concerns about it. Firstly I wondered how stable it was, I didn't want it collapsing in the tent when it was full of a hot drink. Secondly some reviewers said that it retained the taste of the previous contents. However, several other people said that they hadn't found this to be a problem.
I nipped into my local Cotswold to have a look at one. After examining one I was happy that it wouldn't collapse accidentally. I decided to take a chance that it wouldn't retain the taste of any previous contents and bought one. When I got it home I tried several drink in it and confirm that after washing it doesn't retain the taste of the previous contents. It was find with hot drinks, I didn't scale either my fingers or my mouth. Drinks do cool down a bit faster than in my old plastic beaker. However, this is an advantage for me as I like to have my hot drink as soon as I have made it and it doesn't stay in the cup long enough to get cold!